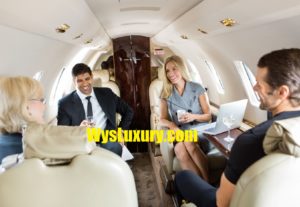 The increasing hassle of flying on commercial planes is driving more and more people to private jet charters. Long customs lines, TSA security checks, crowded airports, are just some of the inconveniences of flying on commercial jets. People who normally fly first class or business class are now increasingly looking at the economics of private jet charters. However, unlike with commercial airlines, its not easy to find the cost of chartering a jet. So here we answer the question: how much does it cost to charter a private jet?
Other Service We Provide
Heavy Private Jet Charter Flight
The cost of chartering a jet is given in dollars per hour of flying. As expected, the cost varies between different models of aircraft. Some aircraft are luxurious, whereas others are not that luxurious. Some aircraft have space for more than a dozen passengers, whereas the smaller ones have as few as four passenger seats only.
One of the smallest charter planes in the market is the Cessna Citation Mustang, which can seat about 4-5 passengers. It also happens to be the cheapest plane to charter: you can charter a Cessna Citation Mustang for about $1700 per hour of flying.
Somewhat larger than the Citation Mustang is the Learjet 60, which can seat up to 8 passengers. Made by Bombardier Aerospace in Wichita, Kansas it would cost you about $3400 per hour of flying to charter the Learjet 60.
At the higher end is a plane like Gulfstream 550, which costs about $8600 per hour of flying time. It helps a bit that it can seat about 14-19 passengers.
Find Private Jet Charter Flight Service Near Me From or To Domestic America