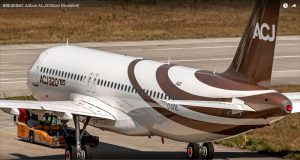 Airbus ACJ320neo Aerospace Private Jet Aircraft omtale er Heve komfort til nye høyder og flyr passasjerer til nye horisonter, ved å dra nytte av de mest moderne teknologi, Disse romslige corporate jets tilby kundene muligheten til å ta sine luksuriøse livsstil med dem uansett hvor de går mens reise i Riding på en privat jet anses av noen å være den ultimate luksus i reise. derimot, det er reell verdi i ridning i en, bør du faktisk råd til det. Mens det er alle typer fly som brukes til private jet flåter, Airbus er regnet som en av de beste fly merkene i bransjen.
airbus, et selskap som har gjort sitt navn for innovasjoner i Fly-teknologi, er å bringe ut sin nyeste generasjon av flyene er spesielt utviklet for bedrifter og private jet bruk. Inkludert i denne nye generasjonen av flyene er Airbus ACJ320neo. Denne gjennomgangen vil ta en nærmere titt på denne nye modellen og hvordan den representerer fremtiden for private jetfly.
Airbus ACJ Oversikt
Airbus har jobbet på deres neste generasjons jetfly siden 2016. Inkludert i disse oppdateringene er deres svært populære Airbus Commercial Jet (ACJ) linje. Deres ACJ linjen er svært populær blant de som kjøper sine egne jetfly og med flåter som bærer privat jet utleie. Mens ACJ har vist seg å være svært vellykket med sin kombinasjon av funksjoner, opptreden, og effektivitet, Airbus vet likevel at det fortsatt er rom for forbedring. Dette har ført til frigjøring av den ACJneo, den neste generasjon av Airbus kommersielle dyser, i januar 2016.
Airbus ACJ320neo er produktet av Airbus sin neo-program. Neo er faktisk et akronym som står for "nye motoralternativet". Airbus utviklet nye motoralternativene for sine kommersielle fly som A320. Disse nye motorene har høye prestasjonsmål: en 15 til 20 prosent lavere drivstofforbruk, redusert støy, og lavere utslipp. Med disse løftene, ordrer for de "neo flyene" var stor-5200 enheter, for å være nøyaktig. For å sette dette i perspektiv, Airbus har solgt rundt 7500 narrow-body aircraft since 1988. Given the magnitude of sales, the neo represents the future of Airbus. It has to live up to the hype as it's now the primary money maker for the company.
In the development of the ACJneo, Airbus looked for ways to make their planes more efficient than ever before. The primary metric the company used is the "per passenger seat mile" cost. It is considered as a measure of the cost-effectiveness of operating the plane. The lower this cost is, the how efficient the plane is. To get the lowest per passenger seat mile cost, Airbus made all kinds of improvements in the engineering of the ACJneo. While Airbus has put an emphasis on efficiency, they did so without sacrificing comfort, opptreden, and other desirable features for jets. These areas of improvement will be put into focus later.
Given its important position in the Airbus product line, the ACJ320neo has to live up to the hype and more. The good thing is that while taking a closer look, Dette flyet er alt det ble annonsert ... og litt mer.
ACJ20neo Kapasitet
Den samlede kapasitet av et luftfartøy kan være delt inn i flere beregninger. Denne målingen er i hovedsak avhengig av den innvendige utformingen av en enkelt plan. Bagasje kapasitet kan deles inn i 2 parametere: indre bagasje kapasitet, som er mengden av bagasje som kan plasseres inne i trykk / temperaturkontrollert kammer i luftfartøyet, og den ytre bagasje kapasitet, som er mengden av bagasje som kan nås fra utsiden av flyet.
Selv om Airbus ACJ320neo har ingen eksterne bagasje kapasitet, det gjør opp for den med sin massive indre bagasje kapasitet. Den interne bagasje kapasiteten til ACJ320neo måles ved en overveldende 976 kubikkliter, noe som gjør det lett best i sin klasse i denne kategorien. Den samlede kapasitet på dette flyet er helt avhengig av hvilken type interiør konfigurasjoner eieren ønsker, men lager konfigurasjon kan gi komfortable sitteplasser for 19 mennesker, som er mer enn nok for de fleste formål.
nyttelast
For å måle et fly nyttelast, du må bruke flere målinger knyttet til flyets vekt, antall elementer det kan bære, o.l. Det operative vekten til et fly er vekten av luftfartøyet inkludert den operative mannskap, nødvendige væsker, slik som drivstoff, og alt operatør utstyr som kreves for flyging. The maximum takeoff and landing weight are defined as the maximum total weight of a fully packed aircraft where takeoff and landing can be performed safely. Nyttige vekt er definert som mengden av vekt som flyet kan bære etter vekten av pilot, mannskap, og brennstoffet blir fjernet.
I forhold til disse nyttelast funksjoner, the enhancements on the Airbus ACJ320neo also work very well in its favor. Maximum landing weight is measured at 148,592 pounds, og maksimale tillatte måles 174,165 pounds, som er høyere enn de fleste av de plan dens klasse. Det operative vekten av dette plan blir målt ved 104,453 pounds. Til slutt, nyttelast av dette plan blir målt ved 8,900 pounds, som kanskje ikke høres mye, but is significantly higher than the competition. In terms of payload numbers, the ACJ320neo shines.
Hastighet
Speed is dependent on a wide range of variables. This value is dependent on internal features such as engine power and aerodynamic efficiency, while outside factors such as air thickness and headwind/tailwind strength also play a role. For the Airbus ACJ320neo, the figures point to an aircraft that is more than capable of speedy flight. Its maximum cruise speed is measured at 527 mph, its average cruise speed is measured at 527 mph, and its long range cruise speed is measured at 514 mph. All these figures represent modest improvements compared to similar planes in its class.
Range
The range of a plane is the measurement of how far a plane can travel using a full tank of fuel. Given that one factor that Airbus focused on during the development of the Neo program is fuel efficiency, you can expect this plane to shine in that department or at least show significant improvements relative to its competition. Apparently during testing, all these changes worked, resulting into range figures that will easily blow away the competition.
The measured maximum range of the Airbus ACJ320neo is measured at 7,099 miles, while the seats full range is measured at 7,021 miles. Maximum range is defined as the furthest an aircraft can fly at cruise speed at optimal altitude, while seats full range is defined as the maximum range an aircraft can fly at maximum payload. The respective measurements derived are significantly higher compared to similar jets, delivering on the promise that Neo jets will feature at least 20% better fuel efficiency compared to their competition.
Altitude
Altitude is another performance metric commonly used to determine an aircraft's performance capabilities. The higher the altitude an aircraft can travel, the better its power is. At the same time, being able to travel at a higher altitude presents some performance and efficiency advantages. With thinner air present at higher altitudes, air resistance and drag becomes reduced, resulting to higher travel speeds and better fuel efficiency. Curiously, den ACJ320neo har en tjeneste taket av 41,000 føtter, som er merkelig lavere sammenlignet med tilsvarende vannstråler som har tjeneste høyder på opptil 45,000 føtter.
Runway Lengde
Banelengde er et sett av målinger som bestemmer den avstand som kreves for et luftfartøy å ta av med full hastighet og gjør en full stopp ved landing. Landings avstand fra ACJ320neo måles 4,665 føtter, noe som betyr at det er den nødvendige lengden av feltet nødvendig for å lande flyet under gjennomsnittsvekt. Den balanserte feltlengden måles 5,820 føtter, which is the distance required to send an aircraft at takeoff speed and then make a full stop. While there are multiple factors that can affect these runway length figures, it can be safely said that the ACJ320neo requires more runway length to take off and land safely.
Extra features
The Airbus ACJ320neo has a boatload of new features, taking advantage of tech improvements developed over years of aircraft experience. The ACJ320neo, as well as the other commercial jet models included in the neo program, comes standard with fly by wire controls, advanced avionics, and range-boosting features. It also comes with a 90-foot cabin that can be customized according to the owner's needs and preferences. While the default 19-seat configuration is both comfy and luxurious, airbus has a myriad of options that will help customize jets according to the owner's personal preferences.
Conclusion
The Airbus ACJ320neo Aviation, while far from being a perfect jet, represents the future of commercial aircraft. With its significant improvements and cutting edge design, det gir ytelse og effektivitet tall som gjør det skiller seg ut for resten. Det er raskere, effektiv mer drivstoff, og mer i stand til å bære større belastninger enn sine samtidige. Disse forbedringene helt fornuftig ikke bare for private jet eiere, men også for de som er interessert i leie. samme luksus, bedre ytelse, og lavere kostnader: hva mer kan en leietaker ønsker på en privat jet leie? Airbus har gjort det igjen.
Airbus acj320neo melodi indre
Finn Private Jet Charter Flight service Near Me Fra eller Til Innenriks Amerika