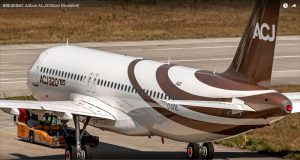 Airbus ACJ320neo Aerospace Private Jet Aircraft Review is Elevating comfort to new heights and flying passengers to new horizons, by taking advantage of the most modern technology, these spacious corporate jets offer customers the ability to take their luxurious lifestyles with them wherever they go while travel in Riding on a private jet is considered by some to be the ultimate luxury in travel. Vendar, there is real value in riding in one, should you actually afford it. While there are all kinds of planes used for private jet fleets, Airbus is considered as one of the best airplane brands in the business.
Airbus, a company that has made its name for innovations in aerospace technology, is bringing out its latest generation of planes specifically designed for corporate and private jet use. Included in this new generation of planes is the Airbus ACJ320neo. This review will take a closer look at this new model and how it represents the future of private jets.
Airbus ACJ Overview
Airbus je delala na svoji naslednji generaciji curki od 2016. Vključeno v teh posodobitev je njihov zelo priljubljen Airbus Commercial Jet (ACJ) vrstica. Njihova ACJ linija je zelo priljubljena pri tistih, ki kupujejo svoje curki in flot, ki opravljajo storitve, najem zasebnega jet. Medtem ko se je ACJ izkazala za zelo uspešno s kombinacijo funkcij, izvedba, in učinkovitost, Airbus še vedno ne ve, da je še prostor za izboljšave. To je privedlo do sprostitve ACJneo, naslednja generacija Airbus komercialna letala, januarja 2016.
Airbus ACJ320neo je produkt neo programa Airbusa. Neo je pravzaprav kratica, ki pomeni "novo možnost motorja". Airbus je razvil nove možnosti motorjev za svoje komercialnih letal, kot je A320. Ti novi motorji imajo vzvišene cilje glede uspešnosti: a 15 za 20 odstotno izboljšanje učinkovitosti porabe goriva, manj šuma, in nižje emisije. S temi obljubami, naročila za "neo letal" so bile ogromne 5200 enot, če smo natančni. Da bi to v perspektivi, Airbus je prodal okrog 7500 narrow-body aircraft since 1988. Given the magnitude of sales, the neo represents the future of Airbus. It has to live up to the hype as it's now the primary money maker for the company.
In the development of the ACJneo, Airbus looked for ways to make their planes more efficient than ever before. The primary metric the company used is the "per passenger seat mile" cost. It is considered as a measure of the cost-effectiveness of operating the plane. The lower this cost is, the how efficient the plane is. To get the lowest per passenger seat mile cost, Airbus made all kinds of improvements in the engineering of the ACJneo. While Airbus has put an emphasis on efficiency, they did so without sacrificing comfort, izvedba, and other desirable features for jets. These areas of improvement will be put into focus later.
Given its important position in the Airbus product line, the ACJ320neo has to live up to the hype and more. The good thing is that while taking a closer look, this plane is everything it was advertised…and then some more.
ACJ20neo Capacity
The overall capacity of an aircraft can be divided into multiple metrics. This measurement is basically dependent on the internal configuration of an individual plane. Baggage capacity can be divided into 2 parameters: internal baggage capacity, which is the amount of baggage that can be stowed inside the pressure/temperature controlled compartment of the aircraft, and the external baggage capacity, which is the amount of baggage that can be accessed from the outside of the aircraft.
Even though the Airbus ACJ320neo has no external baggage capacity, it makes up for it with its massive internal baggage capacity. The internal baggage capacity of the ACJ320neo is measured at a staggering 976 cubic liters, making it easily the best in its class in this category. The overall seating capacity of this plane is entirely dependent on the type of interior configurations the owner wants, but its stock configuration can provide comfortable seating for 19 people, which is more than enough for most purposes.
Payload
To measure a plane's payload, you have to use multiple measurements related to the plane's weight, the number of items it can carry, in podobni. Operativna teža letala je teža letala, vključno z operativno ekipo, potrebne tekočine kot gorivo, in vsa oprema operater zahteva za polet. Največja vzletna in teža pristanek so opredeljeni kot največje skupne mase popolnoma pakirani letala, kjer je vzlet in pristanek lahko varno opravlja. Uporabne masa je definirana kot količina mase, ki se lahko ravnina opravi po teži pilota, posadke, in gorivo odstranimo.
Z vidika teh koristnih funkcij, the enhancements on the Airbus ACJ320neo also work very well in its favor. Maximum landing weight is measured at 148,592 pounds, and maximum takeoff weight is measured at 174,165 pounds, which is higher than most of the planes in its class. The operational weight of this plane is measured at 104,453 pounds. Lastly, the useful payload of this plane is measured at 8,900 pounds, which may not sound much, vendar pa je bistveno višja od konkurence. V smislu števila paketov, ACJ320neo sije.
hitrost
Hitrost je odvisna od številnih spremenljivk. Ta vrednost je odvisna od notranjih funkcij, kot so moč motorja in aerodinamično učinkovitost, medtem ko zunanji dejavniki, kot so debeline zraka in čelna / hrbtni veter moči tudi vlogo. Za Airbus ACJ320neo, podatki kažejo, da zrakoplov, ki je več kot sposoben hitro letom. Njegova najvišja hitrost križarjenje se meri na 527 mph, njegova povprečna hitrost križarjenje se meri na 527 mph, and its long range cruise speed is measured at 514 mph. All these figures represent modest improvements compared to similar planes in its class.
Range
The range of a plane is the measurement of how far a plane can travel using a full tank of fuel. Given that one factor that Airbus focused on during the development of the Neo program is fuel efficiency, you can expect this plane to shine in that department or at least show significant improvements relative to its competition. Apparently during testing, Vse te spremembe delali, Nastalo v podatkih dosega, ki bo z lahkoto odpihnil konkurenco.
Izmerjena maksimalna razpon airbusa ACJ320neo se izmeri pri 7,099 milje, sedeži celoten obseg pa se meri na 7,021 milje. Največje območje je opredeljeno kot najdlje letala lahko letijo na potovalni hitrosti na optimalni višini, sedeži celoten obseg pa je določen kot največje območju lahko letala letijo z največjo nosilnostjo. Ustrezne meritve izpeljani so precej višji v primerjavi s podobnimi šob, dali na obljubo, da Neo curki bodo nastopili vsaj 20% boljši izkoristek goriva v primerjavi s svojo konkurenco.
Nadmorska višina
Nadmorska višina je drugo merilo uspešnosti se običajno uporabljajo za določanje zmožnostim zrakoplova. Višja kot je višina lahko potujejo letalo, bolje je njena moč. Ob istem času, da bi lahko potovali na višji nadmorski višini predstavlja nekaj uspešnosti in učinkovitosti prednosti. Z redčilom zraka sedaj v višjih legah, zračni upor in upor postane zmanjšano, resulting to higher travel speeds and better fuel efficiency. Curiously, the ACJ320neo has a service ceiling of 41,000 noge, kar je nenavadno nižja v primerjavi s podobnimi curki, ki imajo službe višinah do 45,000 noge.
vzletno-pristajalne steze Dolžina
Dolžina steze je niz meritev, ki določajo razdaljo, potrebno za letala za vzlet s polno hitrostjo in naredijo piko na pristanku. Pristajalna razdalja ACJ320neo se meri na 4,665 noge, kar pomeni, da je zahtevana dolžina polja je potrebno pristati letalo na povprečne teže. uravnotežena Dolžina polja se meri na 5,820 noge, which is the distance required to send an aircraft at takeoff speed and then make a full stop. While there are multiple factors that can affect these runway length figures, it can be safely said that the ACJ320neo requires more runway length to take off and land safely.
Extra features
The Airbus ACJ320neo has a boatload of new features, taking advantage of tech improvements developed over years of aircraft experience. The ACJ320neo, as well as the other commercial jet models included in the neo program, comes standard with fly by wire controls, advanced avionics, and range-boosting features. It also comes with a 90-foot cabin that can be customized according to the owner's needs and preferences. While the default 19-seat configuration is both comfy and luxurious, Airbus has a myriad of options that will help customize jets according to the owner's personal preferences.
Zaključek
The Airbus ACJ320neo Aviation, while far from being a perfect jet, represents the future of commercial aircraft. With its significant improvements and cutting edge design, it delivers performance and efficiency figures that makes it stand out for the rest. It is faster, more fuel efficient, and more capable of carrying heavier loads than its contemporaries. These improvements totally make sense not just for private jet owners, but also for those interested in rentals. Same luxury, better performance, and lower costs: what more can a renter want on a zasebni najem jet? Airbus has done it again.
airbus acj320neo melody interior
Poišči Private Charter Jet Flight Service Near Me Iz ali V domačem Amerike