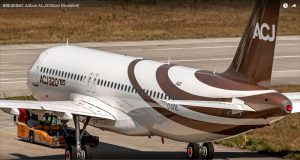 Airbus ACJ320neo Aerospace Private Jet Aircraft Review is Elevating comfort to new heights and flying passengers to new horizons, by taking advantage of the most modern technology, these spacious corporate jets offer customers the ability to take their luxurious lifestyles with them wherever they go while travel in Riding on a private jet is considered by some to be the ultimate luxury in travel. Hins, there is real value in riding in one, should you actually afford it. Þó að það eru alls konar plön fyrir einkaþotu fleets, Airbus er talinn einn af bestu flugvél vörumerki í bransanum.
Airbus, fyrirtæki sem hefur gert nafn sitt fyrir nýjungar í Aerospace tækni, er að koma út nýjustu kynslóð af flugvélum sérstaklega hönnuð fyrir sameiginlegur og einkaþotu notkunar. Innifalið í þessu nýja kynslóð flugvélum er Airbus ACJ320neo. Þessi endurskoðun mun taka a loka líta á þetta nýja líkan og hvernig það táknar framtíð almennum þotum.
Airbus ACJ Yfirlit
Airbus has been working on their next generation of jets since 2016. Included in these updates is their highly popular Airbus Commercial Jet (ACJ) line. Their ACJ line is very popular with those who purchase their own jets and with fleets that carry private jet rental services. While the ACJ has proven to be very successful with its combination of features, performance, and efficiency, Airbus still knows that there is still room for improvement. Þetta hefur leitt til the gefa út af ACJneo, næsta kynslóð af Airbus auglýsing þotum, í janúar 2016.
Airbus ACJ320neo er afrakstur af ný áætlun Airbus er. Neo er í raun skammstöfun sem stendur fyrir "nýja vél valkostur". Airbus þróað nýja vél valkostur fyrir viðskiptabanka flugvélum sínum svo sem A320. Þessi nýju vélar hafa háleit markmið um árangur: a 15 að 20 prósent framför í eldsneytisnýtingu, minnkað suð, og lægri losun. Með þessum loforðum, pantanir fyrir "ný flugvélar" voru gríðarstór-5200 einingar, til að vera nákvæm. To put this into perspective, Airbus has sold around 7500 narrow-body aircraft since 1988. Given the magnitude of sales, the neo represents the future of Airbus. It has to live up to the hype as it's now the primary money maker for the company.
In the development of the ACJneo, Airbus looked for ways to make their planes more efficient than ever before. The primary metric the company used is the "per passenger seat mile" cost. It is considered as a measure of the cost-effectiveness of operating the plane. The lower this cost is, the how efficient the plane is. To get the lowest per passenger seat mile cost, Airbus made all kinds of improvements in the engineering of the ACJneo. While Airbus has put an emphasis on efficiency, they did so without sacrificing comfort, performance, and other desirable features for jets. These areas of improvement will be put into focus later.
Given its important position in the Airbus product line, the ACJ320neo has to live up to the hype and more. The good thing is that while taking a closer look, þetta planið er allt það var auglýst ... og þá meira.
ACJ20neo Hæfileiki
Í heild getu loftfars má skipta í marga mælikvarða. Þessi mæling er í grundvallaratriðum háð innri uppsetningu einstakra flugvél. Farangur getu má skipta í 2 breytur: innri getu farangur, sem er sú upphæð farangurs sem hægt er geymt inn í þrýstiklefann, / hitastýrðum hólfi flugvélarinnar, og ytri farangur getu, which is the amount of baggage that can be accessed from the outside of the aircraft.
Even though the Airbus ACJ320neo has no external baggage capacity, it makes up for it with its massive internal baggage capacity. The internal baggage capacity of the ACJ320neo is measured at a staggering 976 cubic liters, making it easily the best in its class in this category. The overall seating capacity of this plane is entirely dependent on the type of interior configurations the owner wants, but its stock configuration can provide comfortable seating for 19 people, which is more than enough for most purposes.
Payload
To measure a plane's payload, you have to use multiple measurements related to the plane's weight, the number of items it can carry, og þess háttar. The operational weight of an aircraft is the weight of the aircraft including the operational crew, necessary fluids such as fuel, and all operator equipment required for flight. The maximum takeoff and landing weight are defined as the maximum total weight of a fully packed aircraft where takeoff and landing can be performed safely. Useful weight is defined as the amount of weight that the plane can carry after the weight of the pilot, crew, and fuel is removed.
In terms of these payload features, the enhancements on the Airbus ACJ320neo also work very well in its favor. Maximum landing weight is measured at 148,592 pounds, and maximum takeoff weight is measured at 174,165 pounds, sem er hærri en flestir flugvélum í sínum flokki. Rekstrarlega þyngd þessa flugvél er mælt við 104,453 pounds. Loks, að gagni farmur af þessu plani er mæld á 8,900 pounds, sem getur ekki hljóð mikið, en er verulega hærri en samkeppni. Hvað varðar farmur tölum, sem ACJ320neo skín.
hraði
Hraði er háð ýmsum breytum. Þetta gildi er háð innri lögun svo sem eins hreyfils og loftaflfræðilegur skilvirkni, en ytri þættir eins og loft þykkt og mótvindur / meðvind styrk leika einnig hlutverki. Fyrir Airbus ACJ320neo, Tölurnar benda til loftfars sem er meira en fær um skjótur flugi. Hámarks farflugshraða hennar er mæld á 527 mph, Meðaltal farflugshraða hennar er mæld á 527 mph, og langur svið farflugshraða hennar er mæld á 514 mph. Allar þessar tölur tákna hóflega endurbætur miðað við svipaðar flugvélar í sínum flokki.
Range
Bilið á flugvél er að mæla hversu langt flugvél getur ferðast með fullan tank af eldsneyti. Í ljósi þess að einn þáttur sem Airbus áherslu á meðan þróun Neo áætlunarinnar er eldsneytissparnað, you can expect this plane to shine in that department or at least show significant improvements relative to its competition. Apparently during testing, all these changes worked, resulting into range figures that will easily blow away the competition.
The measured maximum range of the Airbus ACJ320neo is measured at 7,099 kílómetra, while the seats full range is measured at 7,021 kílómetra. Maximum range is defined as the furthest an aircraft can fly at cruise speed at optimal altitude, en sæti fullur svið er skilgreind sem hámarksfrávik á bilinu loftfar getur flogið á hámarks farmur. Viðkomandi Mælingar eru ákvörðuð, séu verulega hærri í samanburði við svipaðar Reykjavik, skila á loforð sem Neo þotur vilja lögun að minnsta kosti 20% betri eldsneytisnýtingu í samanburði við samkeppni þeirra.
hæð
Hæð er annar flutningur mæling algengt að ákvarða árangur getu loftfars. Því hærra sem hæð loftfar getur ferðast, því betra máttur hans er. Á sama tíma, being able to travel at a higher altitude presents some performance and efficiency advantages. With thinner air present at higher altitudes, air resistance and drag becomes reduced, resulting to higher travel speeds and better fuel efficiency. Curiously, the ACJ320neo has a service ceiling of 41,000 fætur, which is curiously lower compared to similar jets that have service altitudes of up to 45,000 fætur.
Runway Length
Runway length is a set of measurements that determine the distance required for an aircraft to take off at full speed and make a full stop on landing. The landing distance of the ACJ320neo is measured at 4,665 fætur, which means that it is the required length of field needed to land the aircraft at average weight. The balanced field length is measured at 5,820 fætur, which is the distance required to send an aircraft at takeoff speed and then make a full stop. While there are multiple factors that can affect these runway length figures, það má örugglega segja að ACJ320neo krefst meiri flugbraut lengd til að taka burt og land á öruggan hátt.
auka lögun
Airbus ACJ320neo hefur heill hellingur af nýjum möguleikum, að notfæra sér tækni úrbætur þróað yfir margra ára reynslu loftfara. The ACJ320neo, sem og önnur auglýsing þota módel með í ný forrit, kemur standard með flugu með eftirlit vír, ítarlegri Flugtæknifræði, og svið-uppörvun lögun. It also comes with a 90-foot cabin that can be customized according to the owner's needs and preferences. While the default 19-seat configuration is both comfy and luxurious, Airbus has a myriad of options that will help customize jets according to the owner's personal preferences.
Conclusion
The Airbus ACJ320neo Aviation, while far from being a perfect jet, represents the future of commercial aircraft. With its significant improvements and cutting edge design, it delivers performance and efficiency figures that makes it stand out for the rest. It is faster, more fuel efficient, and more capable of carrying heavier loads than its contemporaries. These improvements totally make sense not just for private jet owners, but also for those interested in rentals. Same luxury, better performance, and lower costs: what more can a renter want on a einkaþota leiga? Airbus has done it again.
airbus acj320neo melody interior
Finndu einkaþotu leiguflug þjónusta Near Me Frá eða innlendra Ameríku