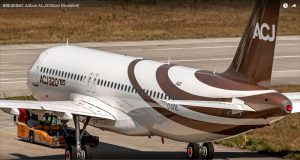 Airbus ACJ320neo Aerospace privát repülőgép Review Felemelő kényelem új magasságokba és a repülő utasok új távlatokat, kihasználva a legmodernebb technológiával, these spacious corporate jets offer customers the ability to take their luxurious lifestyles with them wherever they go while travel in Riding on a private jet is considered by some to be the ultimate luxury in travel. Mindazonáltal, there is real value in riding in one, should you actually afford it. While there are all kinds of planes used for private jet fleets, Airbus is considered as one of the best airplane brands in the business.
Airbus, a company that has made its name for innovations in aerospace technology, is bringing out its latest generation of planes specifically designed for corporate and private jet use. Included in this new generation of planes is the Airbus ACJ320neo. This review will take a closer look at this new model and how it represents the future of private jets.
Airbus ACJ Overview
Airbus has been working on their next generation of jets since 2016. Included in these updates is their highly popular Airbus Commercial Jet (ACJ) line. Their ACJ line is very popular with those who purchase their own jets and with fleets that carry private jet rental services. While the ACJ has proven to be very successful with its combination of features, performance, and efficiency, Airbus still knows that there is still room for improvement. This has resulted to the release of the ACJneo, the next generation of Airbus commercial jets, in January 2016.
The Airbus ACJ320neo is the product of Airbus's neo program. Neo is actually an acronym that stands for "new engine option". Airbus developed new engine options for their commercial planes such as the A320. These new engines have lofty performance goals: a 15 nak nek 20 percent improvement in fuel efficiency, reduced noise, and lower emissions. With these promises, orders for the "neo planes" were huge—5200 units, to be exact. To put this into perspective, Airbus has sold around 7500 narrow-body aircraft since 1988. Given the magnitude of sales, the neo represents the future of Airbus. It has to live up to the hype as it's now the primary money maker for the company.
In the development of the ACJneo, Airbus looked for ways to make their planes more efficient than ever before. The primary metric the company used is the "per passenger seat mile" cost. It is considered as a measure of the cost-effectiveness of operating the plane. The lower this cost is, the how efficient the plane is. To get the lowest per passenger seat mile cost, Airbus made all kinds of improvements in the engineering of the ACJneo. While Airbus has put an emphasis on efficiency, they did so without sacrificing comfort, performance, and other desirable features for jets. These areas of improvement will be put into focus later.
Given its important position in the Airbus product line, the ACJ320neo has to live up to the hype and more. The good thing is that while taking a closer look, this plane is everything it was advertised…and then some more.
ACJ20neo Capacity
The overall capacity of an aircraft can be divided into multiple metrics. This measurement is basically dependent on the internal configuration of an individual plane. Baggage capacity can be divided into 2 parameters: internal baggage capacity, which is the amount of baggage that can be stowed inside the pressure/temperature controlled compartment of the aircraft, and the external baggage capacity, which is the amount of baggage that can be accessed from the outside of the aircraft.
Even though the Airbus ACJ320neo has no external baggage capacity, it makes up for it with its massive internal baggage capacity. The internal baggage capacity of the ACJ320neo is measured at a staggering 976 köbméter liter, így egyszerűen a legjobb a kategóriájában ebben a kategóriában. A teljes befogadóképesség a sík teljes mértékben függ, hogy milyen típusú belső felépítése a tulajdonos akar, de az állomány konfigurációt tud kényelmes ülőhelyek 19 emberek, ami több mint elég a legtöbb célra.
Hasznos teher
Mérni a repülőgép hasznos teher, meg kell használni több mérést kapcsolódó gép súlya, A tételek száma az el tudja látni, és a hasonlók. The operational weight of an aircraft is the weight of the aircraft including the operational crew, necessary fluids such as fuel, and all operator equipment required for flight. The maximum takeoff and landing weight are defined as the maximum total weight of a fully packed aircraft where takeoff and landing can be performed safely. Useful weight is defined as the amount of weight that the plane can carry after the weight of the pilot, crew, and fuel is removed.
In terms of these payload features, the enhancements on the Airbus ACJ320neo also work very well in its favor. Maximum landing weight is measured at 148,592 font, és a maximális felszálló súlya mérjük 174,165 font, amely magasabb, mint a legtöbb repülőgépek kategóriájában. A működési súlya ezt a síkot a mért 104,453 font. Végül, A hasznos teherbírása a sík mérve 8,900 font, ami nem hangzik sok, de lényegesen magasabb, mint a verseny. Ami a hasznos teher számok, A ACJ320neo ragyog.
Sebesség
A sebesség függ a változók széles körét. This value is dependent on internal features such as engine power and aerodynamic efficiency, while outside factors such as air thickness and headwind/tailwind strength also play a role. For the Airbus ACJ320neo, the figures point to an aircraft that is more than capable of speedy flight. Its maximum cruise speed is measured at 527 mph, its average cruise speed is measured at 527 mph, and its long range cruise speed is measured at 514 mph. All these figures represent modest improvements compared to similar planes in its class.
Range
A tartomány egy repülőgép a mérése, hogy milyen messze sík utazhat egy teli tank üzemanyag. Tekintettel arra, hogy az egyik tényező, hogy az Airbus összpontosított fejlesztése során a Neo program az üzemanyag-hatékonyság, you can expect this plane to shine in that department or at least show significant improvements relative to its competition. Apparently during testing, Mindezen változások dolgoztak, kapott a tartomány számok, hogy könnyen elfújja a verseny.
A mért maximális tartománya Airbus ACJ320neo mértük 7,099 miles, while the seats full range is measured at 7,021 miles. Maximum range is defined as the furthest an aircraft can fly at cruise speed at optimal altitude, while seats full range is defined as the maximum range an aircraft can fly at maximum payload. The respective measurements derived are significantly higher compared to similar jets, delivering on the promise that Neo jets will feature at least 20% better fuel efficiency compared to their competition.
Altitude
Magassági másik teljesítménymutató általánosan használják annak eldöntésére egy repülőgép teljesítőképességét. Minél magasabb a tengerszint feletti magasság repülőgépen utazhat, annál jobb a teljesítmény. Ugyanabban az időben, hogy képes utazni nagyobb magasságban bemutat néhány teljesítmény és hatékonyság előnyeit. A vékonyabb levegő jelen nagyobb magasságokban, légellenállás és húzza redukálódik, kapott nagyobb utazási sebesség és jobb üzemanyag-hatékonyság. különösképpen, A ACJ320neo egy szolgáltatás felső határa 41,000 láb, which is curiously lower compared to similar jets that have service altitudes of up to 45,000 láb.
Runway Length
Runway length is a set of measurements that determine the distance required for an aircraft to take off at full speed and make a full stop on landing. The landing distance of the ACJ320neo is measured at 4,665 láb, which means that it is the required length of field needed to land the aircraft at average weight. The balanced field length is measured at 5,820 láb, ami a távolság szükséges, hogy küldjön egy repülőgép felszálló sebesség aztán, hogy egy teljesen megáll. Bár több tényező is befolyásolja ezeket kifutópályahossz számok, biztonságosan lehet mondani, hogy a ACJ320neo igényel kifutópályahossz a felszállás és a leszállás biztonságosan.
Extra funkciók
Az Airbus ACJ320neo egy hajórakomány új funkciók, kihasználva tech fejlesztések során kialakított éves tapasztalattal repülőgép. a ACJ320neo, valamint az egyéb kereskedelmi sugárhajtású modellek szerepelnek a programban neo, alapkiépítésben fly by wire ellenőrzések, fejlett repülési, és a tartomány-növelő funkciók. Meg is jön egy 90 láb utastér testre szabható szerint a tulajdonos igényei és preferenciái. Míg az alapértelmezett 19-ülés konfiguráció egyaránt kényelmes és luxus, Airbus van számtalan lehetőséget, amely segít testre fúvókák szerint a tulajdonos személyes preferenciák.
Következtetés
Az Airbus ACJ320neo Aviation, míg messze nem tökéletes jet, képviseli a jövőben a kereskedelmi repülőgépek. With its significant improvements and cutting edge design, it delivers performance and efficiency figures that makes it stand out for the rest. It is faster, more fuel efficient, and more capable of carrying heavier loads than its contemporaries. These improvements totally make sense not just for private jet owners, but also for those interested in rentals. Same luxury, better performance, and lower costs: what more can a renter want on a magánrepülőt kölcsönzés? Airbus has done it again.
airbus acj320neo dallam belső
Keresse Private Jet Charter Flight Service Near Me tól, illetve a hazai Amerika