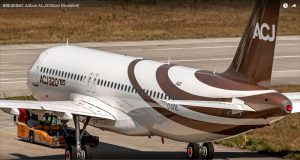 Airbus ACJ320neo aeroespacial p'uchta'abi Jet péepenk'áak'o' revisión le comodidad eleva túumben ka'anlil yéetel pasajeros xik'nalo'ob tak túumben horizontes, bak'eltik le más moderna ma'alo'obtal, Le amplios jets corporativos ku ts'abal u clientes le Buka'aj u ba'al u yuk'ik u lujosos estilos kuxtal yéetel leti'ob dondequiera u ka'a xi'iko'ob ka' jo'op' náachil ti' nat' ti' jump'éel jet privado ku considera tumen yane' bey le ts'ook lujo náachil. Ba'ale', Yaan ku xíimbal tumen ti' nat' ti' juntúul, Wa jach u pagara. Wa bien yaan tuláakal bin yano'ob péepen k'áak'obo' utilizados utia'al flotas péepen k'áak'obo' privados, Airbus le ku ya'ala'al ti' bey jump'éel le ti' marcas péepen k'áak'obo' ti' le negocio.
Airbus, juntúul empresa ku ts'o'ok u meentik u k'aaba' tuméen le innovaciones ti' ma'alo'obtal aeroespacial, Táan jo'osike'ex ti' le sáasilo' u ts'ook generación péepen k'áak'obo' específicamente diseñados uti'al u u péepen k'áak'obo' corporativos yéetel privados. Incluido ti' le túumben generación péepen k'áak'obo' le Airbus ACJ320neo. Le revisión examinará asab u naats'il le túumben bix yéetel bix leti' le futuro le jets privados.
U tsoolil tuláakal Airbus ACJ
Airbus ts'o'ok yaax yaantal meyaj ichil u láak' "semana" generación jets tak 2016. Incluido ti' le actualizaciones jach u jach Seguro Airbus Commercial Jet (Acj) Internet ichil. U internet ichil ACJ le jach Seguro ichil aquellos u compran u chíikbesik jets yéetel flotas u bisa'al yéetel alquiler jets privados. Ka' jo'op' u le ACJ u demostrado u jach exitoso yéetel u combinación yáantajo'ob, Rendimiento, yéetel le eficiencia, Airbus láayli' u yojel láayli' yaan margen mejora. Lela' u ts'áaik kúuchil u liberación le ACJneo, u láak' "semana" generación péepen k'áak'obo' comerciales u Airbus, tu enero 2016.
Airbus ACJ320neo le u producto le cha'ana' neo u Airbus. Neo jach tu realidad jump'éel acrónimo ti' u "túumben opción u kisbuuts'o'". Airbus desarrolló túumben opciones motores utia'al u péepen k'áak'obo' comerciales bey le A320. Le túumben motores yaan ka'anatako'ob ku rendimiento: Jump'éel 15 Utia'al 20 tumen ciento mejora ti' le eficiencia le combustible, reducción u juum, ka menores emisiones. Yéetel a promesas, pedidos ti' le "neo péepen k'áak'obo'" bino'ob nukuch: 5200 kúuchilo'ob, utia'al u exactos. Utia'al u ts'áabal le je'ela' ti' perspectiva, Airbus ts'o'ok ko'onol paach 7500 péepen k'áak'obo' fuselaje estrecho tak 1988. Dada u magnitud le ventas, le neo leti' le futuro Airbus. Yaan u yaantal ti' le ka'anilo' le bombo, ts'o'ok u Bejla'e' le le noj bejo' fabricante taak'in utia'al u empresa.
Ti' le ma'alo'ob u ACJneo, Airbus tu kaxtaj maneras meentik u péepen k'áak'obo' asab eficientes u Ma'atech. Le noj bejo' métrica u utilizó le compañía jach u tojol "tumen milla u asiento pasajero". Ku considera bey juntúul p'iss bey u rentabilidad u operar le péepenk'áak'o'. Buka'aj menor Je'en tu'uxe' le ta manaj,, tu eficiente ba'ax le le péepenk'áak'o'. Tia'al u tojol asab t'okik tumen milla asiento pasajero, Airbus beetajo' tuláakal bin yano'ob mejoras ti' le ingeniería le ACJneo. While Airbus has put an emphasis on efficiency, they did so without sacrificing comfort, Rendimiento, and other desirable features for jets. These areas of improvement will be put into focus later.
Given its important position in the Airbus product line, the ACJ320neo has to live up to the hype and more. The good thing is that while taking a closer look, this plane is everything it was advertised…and then some more.
ACJ20neo Capacity
The overall capacity of an aircraft can be divided into multiple metrics. This measurement is basically dependent on the internal configuration of an individual plane. Baggage capacity can be divided into 2 parameters: internal baggage capacity, which is the amount of baggage that can be stowed inside the pressure/temperature controlled compartment of the aircraft, and the external baggage capacity, which is the amount of baggage that can be accessed from the outside of the aircraft.
Even though the Airbus ACJ320neo has no external baggage capacity, it makes up for it with its massive internal baggage capacity. The internal baggage capacity of the ACJ320neo is measured at a staggering 976 cubic liters, making it easily the best in its class in this category. The overall seating capacity of this plane is entirely dependent on the type of interior configurations the owner wants, but its stock configuration can provide comfortable seating for 19 people, which is more than enough for most purposes.
Payload
To measure a plane's payload, you have to use multiple measurements related to the plane's weight, the number of items it can carry, and the like. The operational weight of an aircraft is the weight of the aircraft including the operational crew, necessary fluids such as fuel, and all operator equipment required for flight. The maximum takeoff and landing weight are defined as the maximum total weight of a fully packed aircraft where takeoff and landing can be performed safely. Useful weight is defined as the amount of weight that the plane can carry after the weight of the pilot, crew, and fuel is removed.
In terms of these payload features, the enhancements on the Airbus ACJ320neo also work very well in its favor. Maximum landing weight is measured at 148,592 pounds, and maximum takeoff weight is measured at 174,165 pounds, which is higher than most of the planes in its class. The operational weight of this plane is measured at 104,453 pounds. Lastly, the useful payload of this plane is measured at 8,900 pounds, which may not sound much, but is significantly higher than the competition. In terms of payload numbers, the ACJ320neo shines.
Speed
Speed is dependent on a wide range of variables. This value is dependent on internal features such as engine power and aerodynamic efficiency, while outside factors such as air thickness and headwind/tailwind strength also play a role. For the Airbus ACJ320neo, the figures point to an aircraft that is more than capable of speedy flight. Its maximum cruise speed is measured at 527 mph, its average cruise speed is measured at 527 mph, and its long range cruise speed is measured at 514 mph. All these figures represent modest improvements compared to similar planes in its class.
Range
The range of a plane is the measurement of how far a plane can travel using a full tank of fuel. Given that one factor that Airbus focused on during the development of the Neo program is fuel efficiency, you can expect this plane to shine in that department or at least show significant improvements relative to its competition. Apparently during testing, all these changes worked, resulting into range figures that will easily blow away the competition.
The measured maximum range of the Airbus ACJ320neo is measured at 7,099 miles, while the seats full range is measured at 7,021 miles. Maximum range is defined as the furthest an aircraft can fly at cruise speed at optimal altitude, while seats full range is defined as the maximum range an aircraft can fly at maximum payload. The respective measurements derived are significantly higher compared to similar jets, delivering on the promise that Neo jets will feature at least 20% better fuel efficiency compared to their competition.
Altitude
Altitude is another performance metric commonly used to determine an aircraft's performance capabilities. The higher the altitude an aircraft can travel, the better its power is. At the same time, being able to travel at a higher altitude presents some performance and efficiency advantages. With thinner air present at higher altitudes, air resistance and drag becomes reduced, resulting to higher travel speeds and better fuel efficiency. Curiously, the ACJ320neo has a service ceiling of 41,000 feet, which is curiously lower compared to similar jets that have service altitudes of up to 45,000 feet.
Runway Length
Le longitud u pista le jump'éel nu'ukulo'ob ba'axo'ob tu kano'ob u beetik le distancia k'a'abeto'ob utia'al u jump'éel péepenk'áak'o' despegue tuláakal velocidad ka beetik jump'éel parada completa ti' le aterrizar. Le nachil ti' jáayal u ACJ320neo Cancún u je'el u 4,665 feet, Ba'ax u k'áat u ya'al u chowakil le u jach yáax k'a'abeto'ob utia'al aterrizar le péepenk'áak'o' ti' peso chúumuk. Le longitud u jach yáax equilibrada u je'el ti' 5,820 feet, Leti' le distancia k'a'abet yo'osal túuxtik jump'éel péepenk'áak'o' ti' le velocidad despegue yéetel ku meentik jump'éel parada completa. Wa bien yaan ya'ab k'oja'ano'ob ba'ax ku páajtal afectar táan a cifras longitud pista, u páajtal u ya'ala'ale' seguridad u le ACJ320neo k'a'abet asab longitud pista yo'osal despegar yéetel aterrizar ti' seguridad.
Yáantajo'ob adicionales
Airbus ACJ320neo yaan ti' Jun múuch' túumben yáantajo'ob, bak'eltik le mejoras tecnológicas desarrolladas a lo largo de ja'ab yaan ti' aeronaves. Le ACJ320neo, Bey je'el bix le uláak' modelos jets comerciales incluidos ti' le cha'ana' neo, ti' u tal serie yéetel controles vuelo tumen cable, aviónica avanzada, yéetel ba'alo'ob ku aumentan le alcance. Bey xan u tal yéetel juntúul cabina 90 wooko'ob ku páajtal personalizar t'aanilo'ob kajtalo'ob ichil ka preferencias le propietario. Ka' jo'op' u le configuración predeterminada u 19 asientos le tuniche' yéetel lujosa, Airbus Yaan jump'éel sinfín opciones yaan u yáantiko'ob personalizar le jets de acuerdo con le preferencias xookilo' ti' le propietario.
Conclusión
The Airbus ACJ320neo Aviation, ka' jo'op' u náach tu beel jump'éel jet perfecto, Leti' le futuro le péepen k'áak'obo' comerciales. Yéetel u mejoras significativas yéetel diseño máax k'oja'an, ku cifras rendimiento yéetel eficiencia ba'ax ku beetiko'ob beytal tuméen u yala'ab. Jach asab séeb, asab eficiente ti' le jant p'áatalij combustible, ka asab capaz tu najil ts'aak kuuch asab pesadas u u contemporáneos. Táan a mejoras yaan sentido ma' chéen utia'al le propietarios jets privados, Ba'ale' xan utia'al le interesados ti' alquileres. Wéet lujo, utsil rendimiento, yéetel menores Baajux: wáaj ba'ax asab je'el jump'éel inquilino ts'íiboltik ti' jump'éel. Alquiler jet privado? Airbus u ts'o'ok suut beetej.
airbus acj320neo melodía interior
Kaxtik le mayaj vuelos chárter u jets privados naats' tin tak wa ti' Amerika nacional