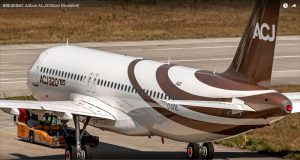 Airbus ACJ320neo Aerospace Private Jet Aircraft Review is Elevating comfort to new heights and flying passengers to new horizons, by taking advantage of the most modern technology, these spacious corporate jets offer customers the ability to take their luxurious lifestyles with them wherever they go while travel in Riding on a private jet is considered by some to be the ultimate luxury in travel. Ammo, birida minib haqiqiy qiymati bor, Agar aslida uni ko'zga kerak. xususiy jet parklarini uchun ishlatiladigan samolyot barcha turlari mavjud bo'lsa, Airbus biznesda eng yaxshi samolyot brendning biri deb hisoblanadi.
Airbus, kosmik texnologiyasi yangiliklar uchun uning nomini qilgan bir kompaniya, maxsus korporativ va xususiy jet foydalanish uchun mo'ljallangan samolyot, uning so'nggi avlod chiqib olib. samolyot, bu yangi avlod, jumladan, Airbus ACJ320neo emas. This review will take a closer look at this new model and how it represents the future of private jets.
Airbus ACJ Overview
Airbus has been working on their next generation of jets since 2016. Included in these updates is their highly popular Airbus Commercial Jet (ACJ) line. Their ACJ line is very popular with those who purchase their own jets and with fleets that carry private jet rental services. While the ACJ has proven to be very successful with its combination of features, performance, and efficiency, Airbus still knows that there is still room for improvement. This has resulted to the release of the ACJneo, the next generation of Airbus commercial jets, in January 2016.
The Airbus ACJ320neo is the product of Airbus's neo program. Neo is actually an acronym that stands for "new engine option". Airbus developed new engine options for their commercial planes such as the A320. These new engines have lofty performance goals: a 15 uchun 20 percent improvement in fuel efficiency, reduced noise, and lower emissions. With these promises, orders for the "neo planes" were huge—5200 units, to be exact. To put this into perspective, Airbus has sold around 7500 narrow-body aircraft since 1988. Given the magnitude of sales, the neo represents the future of Airbus. It has to live up to the hype as it's now the primary money maker for the company.
ACJneo rivojlantirishda, Airbus har qachongidan ham o'z samolyotlari yanada samarali qilish uchun yo'llar qidira. ishlatiladigan asosiy metrik kompaniyasi "yo'lovchi joy mil boshiga" qiymati hisoblanadi. Bu samolyot faoliyat iqtisodiy samaradorligi bir chorasi sifatida hisoblanadi. Ushbu xarajat hisoblanadi kam, Qanday samarali samolyot hisoblanadi. Eng past boshiga yo'lovchi joy mil xarajatlarini olish uchun, Airbus ACJneo muhandislik yaxshilash barcha turdagi qildi. Airbus samaradorligini to'g'risida e'tibor qo'ydi-da, Ular konfor slow shunday qildi, performance, and other desirable features for jets. These areas of improvement will be put into focus later.
Given its important position in the Airbus product line, the ACJ320neo has to live up to the hype and more. The good thing is that while taking a closer look, this plane is everything it was advertised…and then some more.
ACJ20neo Capacity
The overall capacity of an aircraft can be divided into multiple metrics. This measurement is basically dependent on the internal configuration of an individual plane. Baggage capacity can be divided into 2 parameters: internal baggage capacity, which is the amount of baggage that can be stowed inside the pressure/temperature controlled compartment of the aircraft, and the external baggage capacity, which is the amount of baggage that can be accessed from the outside of the aircraft.
Even though the Airbus ACJ320neo has no external baggage capacity, it makes up for it with its massive internal baggage capacity. The internal baggage capacity of the ACJ320neo is measured at a staggering 976 cubic liters, making it easily the best in its class in this category. The overall seating capacity of this plane is entirely dependent on the type of interior configurations the owner wants, but its stock configuration can provide comfortable seating for 19 people, which is more than enough for most purposes.
Payload
To measure a plane's payload, you have to use multiple measurements related to the plane's weight, the number of items it can carry, va shunga o'xshash. The operational weight of an aircraft is the weight of the aircraft including the operational crew, necessary fluids such as fuel, and all operator equipment required for flight. The maximum takeoff and landing weight are defined as the maximum total weight of a fully packed aircraft where takeoff and landing can be performed safely. Useful weight is defined as the amount of weight that the plane can carry after the weight of the pilot, crew, and fuel is removed.
In terms of these payload features, the enhancements on the Airbus ACJ320neo also work very well in its favor. Maximum landing weight is measured at 148,592 pounds, and maximum takeoff weight is measured at 174,165 pounds, which is higher than most of the planes in its class. The operational weight of this plane is measured at 104,453 pounds. Nihoyat, the useful payload of this plane is measured at 8,900 pounds, which may not sound much, but is significantly higher than the competition. In terms of payload numbers, the ACJ320neo shines.
tezlik
Speed is dependent on a wide range of variables. This value is dependent on internal features such as engine power and aerodynamic efficiency, Bunday havo qalinligi va qarshidan esayotgan shamol / tailwind kuch sifatida tashqi omillar ham muhim rol o'ynaydi esa. Airbus ACJ320neo uchun, raqamlar tezroq parvoz ko'proq qodir bo'lgan samolyot ishora. Uning maksimal Kruiz tezligi da o'lchanadi 527 milya, uning o'rtacha Kruiz tezligi da o'lchanadi 527 milya, va uzoq masofaga Kruiz tezligi da o'lchanadi 514 milya. Bu barcha raqamlar o'z sinfida shunga o'xshash samolyot nisbatan sodda yaxshilash vakili.
Range
bir samolyot qator bir samolyot yoqilg'i bakingni yordamida sayr qanday uzoq o'lchami. Given that one factor that Airbus focused on during the development of the Neo program is fuel efficiency, you can expect this plane to shine in that department or at least show significant improvements relative to its competition. Apparently during testing, all these changes worked, resulting into range figures that will easily blow away the competition.
The measured maximum range of the Airbus ACJ320neo is measured at 7,099 milya, while the seats full range is measured at 7,021 milya. Maximum range is defined as the furthest an aircraft can fly at cruise speed at optimal altitude, while seats full range is defined as the maximum range an aircraft can fly at maximum payload. The respective measurements derived are significantly higher compared to similar jets, delivering on the promise that Neo jets will feature at least 20% better fuel efficiency compared to their competition.
Altitude
Altitude is another performance metric commonly used to determine an aircraft's performance capabilities. The higher the altitude an aircraft can travel, the better its power is. At the same time, being able to travel at a higher altitude presents some performance and efficiency advantages. With thinner air present at higher altitudes, air resistance and drag becomes reduced, resulting to higher travel speeds and better fuel efficiency. Curiously, the ACJ320neo has a service ceiling of 41,000 fut, which is curiously lower compared to similar jets that have service altitudes of up to 45,000 fut.
Runway Length
Runway length is a set of measurements that determine the distance required for an aircraft to take off at full speed and make a full stop on landing. The landing distance of the ACJ320neo is measured at 4,665 fut, which means that it is the required length of field needed to land the aircraft at average weight. The balanced field length is measured at 5,820 fut, which is the distance required to send an aircraft at takeoff speed and then make a full stop. While there are multiple factors that can affect these runway length figures, it can be safely said that the ACJ320neo requires more runway length to take off and land safely.
Extra features
The Airbus ACJ320neo has a boatload of new features, taking advantage of tech improvements developed over years of aircraft experience. The ACJ320neo, as well as the other commercial jet models included in the neo program, comes standard with fly by wire controls, advanced avionics, and range-boosting features. Shuningdek, egasining ehtiyojlarini va preferentsiyalar ko'ra tayyorlangan mumkin bo'lgan 90-oyoq bir idishni bilan birga keladi. Standart 19-joy konfiguratsiya qulay va hashamatli, ham bo'lsa, Airbus egasining shaxsiy imtiyozlarni ko'ra oqimlarini sozlashingiz yordam beradi variantlari son-sanoqsiz ega.
xulosa
Airbus ACJ320neo aviatsiya, esa uzoq mukammal Jet bo'lishdan, tijorat samolyot kelajagini ifodalaydi. uning muhim yaxshilash va chiqib ketish tomonlarini dizayni bilan, it delivers performance and efficiency figures that makes it stand out for the rest. It is faster, more fuel efficient, and more capable of carrying heavier loads than its contemporaries. These improvements totally make sense not just for private jet owners, but also for those interested in rentals. Same luxury, better performance, and lower costs: what more can a renter want on a xususiy jet ijara? Airbus has done it again.
airbus acj320neo melody interior
From yoki ichki Meni Amerikada Yaqin Xususiy Jet charter reys xizmati topish