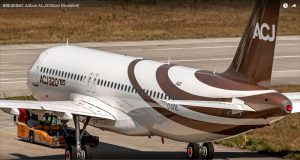 Airbus ACJ320neo Aerospace Private Jet Aircraft Review is Elevating comfort to new heights and flying passengers to new horizons, by taking advantage of the most modern technology, these spacious corporate jets offer customers the ability to take their luxurious lifestyles with them wherever they go while travel in Riding on a private jet is considered by some to be the ultimate luxury in travel. zvisinei, there is real value in riding in one, should you actually afford it. While there are all kinds of planes used for private jet fleets, Airbus is considered as one of the best airplane brands in the business.
Airbus, a company that has made its name for innovations in aerospace technology, is bringing out its latest generation of planes specifically designed for corporate and private jet use. Included in this new generation of planes is the Airbus ACJ320neo. This review will take a closer look at this new model and how it represents the future of private jets.
Airbus ACJ Overview
Airbus has been working on their next generation of jets since 2016. Included in these updates is their highly popular Airbus Commercial Jet (ACJ) line. Their ACJ line is very popular with those who purchase their own jets and with fleets that carry private jet rental services. While the ACJ has proven to be very successful with its combination of features, performance, and efficiency, Airbus still knows that there is still room for improvement. This has resulted to the release of the ACJneo, the next generation of Airbus commercial jets, in January 2016.
The Airbus ACJ320neo is the product of Airbus's neo program. Neo is actually an acronym that stands for "new engine option". Airbus developed new engine options for their commercial planes such as the A320. These new engines have lofty performance goals: a 15 kuti 20 percent improvement in fuel efficiency, reduced noise, and lower emissions. With these promises, orders for the "neo planes" were huge—5200 units, to be exact. To put this into perspective, Airbus has sold around 7500 narrow-body aircraft since 1988. Given the magnitude of sales, the neo represents the future of Airbus. It has to live up to the hype as it's now the primary money maker for the company.
In the development of the ACJneo, Airbus looked for ways to make their planes more efficient than ever before. The primary metric the company used is the "per passenger seat mile" cost. It is considered as a measure of the cost-effectiveness of operating the plane. The lower this cost is, the how efficient the plane is. To get the lowest per passenger seat mile cost, Airbus made all kinds of improvements in the engineering of the ACJneo. While Airbus has put an emphasis on efficiency, they did so without sacrificing comfort, performance, and other desirable features for jets. These areas of improvement will be put into focus later.
Given its important position in the Airbus product line, the ACJ320neo has to live up to the hype and more. The good thing is that while taking a closer look, this plane is everything it was advertised…and then some more.
ACJ20neo Capacity
The overall capacity of an aircraft can be divided into multiple metrics. This measurement is basically dependent on the internal configuration of an individual plane. Baggage capacity can be divided into 2 parameters: internal baggage capacity, inova chitsama mukwende kuti zvinogona stowed mukati kumanikidzwa / tembiricha kudzorwa mupanda of ndege, uye zvekunze mukwende vanokwanisa, inova chitsama mukwende kuti anogona kuwanikwa kubva kunze ndege.
Kunyange zvazvo Airbus ACJ320neo haana zvekunze mukwende vanokwanisa, zvinoita yarwo wayo makuru zvemukati mukwende vanokwanisa. The womukati mukwende vanokwanisa pakati ACJ320neo kunoyerwa pane inoshamisa 976 cubic marita, zvichiita nyore yakanakisisa mukirasi yacho muchikwata ichi. Zvinonyatsorehwa nokugara inokwana ndege iyi zvachose novimba rudzi mukati configurations muridzi achida, asi ayo wemari configuration inogona akasununguka aikwana 19 vanhu, riri kupfuura zvinokwana zvinangwa vakawanda.
Payload
Kuyera ndege kuti payload, unofanira kushandisa akawanda kuyerwa chokuita ndege wacho uremu, uwandu zvinhu rinogona kutakura, uye zvakadai. The operative kurema ane ndege ndiyo uremu ndege kusanganisira operative vashandi, anodiwa zvinwiwa akadai huni, uye opareta midziyo yose inodiwa yokutizira. The kunonyanyisa yasimuka uye kumhara uremu anotsanangurwa se kufadza zvachose uremu ane ndege zvakazara yakazara apo yasimuka uye kumhara kunogona kuitwa zvakanaka. Inobatsira kurema rinorondedzerwa so chitsama uremu kuti ndege anogona kutakura pashure kurema mutyairi, vashandi, uye mafuta chinobviswa.
In mazwi aya payload zvinhu, the enhancements on the Airbus ACJ320neo also work very well in its favor. Maximum landing weight is measured at 148,592 pondo, uye kunonyanyisa yasimuka uremu kunoyerwa pa 174,165 pondo, riri kupfuura vazhinji ndege vomukirasi yacho. The operative kurema ndege ino kunoonekwa pa 104,453 pondo. Pakupedzisira, rinokosha payload kuti ndege iyi kunoonekwa pa 8,900 pondo, izvo arege kuridza kwazvo, asi zviri kupfuura makwikwi. In mashoko payload nhamba, ari ACJ320neo anopenya.
havukavu
Speed ​​tinofanira zvakasiyana-siyana variables. This value is dependent on internal features such as engine power and aerodynamic efficiency, while outside factors such as air thickness and headwind/tailwind strength also play a role. For the Airbus ACJ320neo, the figures point to an aircraft that is more than capable of speedy flight. Its maximum cruise speed is measured at 527 mph, its average cruise speed is measured at 527 mph, and its long range cruise speed is measured at 514 mph. All these figures represent modest improvements compared to similar planes in its class.
Range
The range of a plane is the measurement of how far a plane can travel using a full tank of fuel. Given that one factor that Airbus focused on during the development of the Neo program is fuel efficiency, you can expect this plane to shine in that department or at least show significant improvements relative to its competition. Apparently during testing, all these changes worked, resulting into range figures that will easily blow away the competition.
The measured maximum range of the Airbus ACJ320neo is measured at 7,099 zvemakiromita, ukuwo zvigaro zvizere siyana kunoonekwa pa 7,021 zvemakiromita. Kunonyanyisa Range rinorondedzerwa so nomumumvuri imwe ndege inogona kubhururuka pa rwendo kumhanya pa Zvakanyanya Kunaka Panguva Yepamuviri kukwira, apo zvigaro azere Range rinorondedzerwa so kunonyanyisa siyana ane ndege inogona kubhururuka pa kunonyanyisa payload. Nhengo kuyerwa hwokurara vari yekudyidzana dzakakwirira zvichienzaniswa zvakafanana jets, hurukuro pamusoro yechipikirwa Neo jets ichange iine kanenge 20% nani mafuta kunyatsoshanda zvichienzaniswa makwikwi kwavo.
kukwira
Altitude is another performance metric commonly used to determine an aircraft's performance capabilities. The higher the altitude an aircraft can travel, the better its power is. At the same time, being able to travel at a higher altitude presents some performance and efficiency advantages. With thinner air present at higher altitudes, air resistance and drag becomes reduced, resulting to higher travel speeds and better fuel efficiency. Curiously, the ACJ320neo has a service ceiling of 41,000 feet, riri Pakuumbwa rezasi zvichienzaniswa jets zvakafanana kuti vane basa altitudes anosvika 45,000 feet.
Runway Length
Runway kureba chine kuyerwa kuzobvisa panguva akurumidze uye kuita zvizere vanorega pamusoro kumhara kuti kuona daro waida kuti ndege. The kumhara kure of ACJ320neo kunoyerwa pa 4,665 feet, izvo zvinoreva kuti ndicho zvaida urefu munda vaifanira kunyika ndege pa avhareji uremu. The yakadzikama munda urefu kunoyerwa pa 5,820 feet, which is the distance required to send an aircraft at takeoff speed and then make a full stop. While there are multiple factors that can affect these runway length figures, it can be safely said that the ACJ320neo requires more runway length to take off and land safely.
Extra features
The Airbus ACJ320neo has a boatload of new features, taking advantage of tech improvements developed over years of aircraft experience. The ACJ320neo, as well as the other commercial jet models included in the neo program, kunobva mureza ne Nhunzi kubudikidza waya chidhiraivho, yemhando avionics, uye urefu-boosting zvinhu. Zvinoitawo anouya aine 90-rutsoka kabhini anogona customized maererano muridzi zvinodiwa uye zvaunofarira. Nepo default 19 chokuyananisa configuration ndiye zvose comfy uye dzinoyevedza, Airbus ane zviuru zvokusarudza kuti kuchabatsira gadzirisa jets maererano muridzi wacho zvatinoda.
mhedziso
The Airbus ACJ320neo Aviation, apo kure nokuva jeti akakwana, anomiririra ramangwana ezvokutengeserana ndege. With its significant improvements and cutting edge design, it delivers performance and efficiency figures that makes it stand out for the rest. It is faster, more fuel efficient, and more capable of carrying heavier loads than its contemporaries. These improvements totally make sense not just for private jet owners, but also for those interested in rentals. Same luxury, better performance, and lower costs: what more can a renter want on a private ndege Rental? Airbus has done it again.
airbus acj320neo melody interior
Find Private Jet Charter Flight Service Near Me Kubva kana To Domestic America